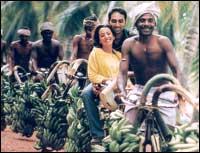 An English speaking South Indian movie that has North Indian actors Shabana Azmi, Perizad Zorabian and Lilette Dubey in the prinicpal cast. That is good fusion in itself. The movie's story line itself is based on a carnatic-western music fusion band which helps the whole new age ambience.
If the Hollywood marketing gurus were to have made a trailer for this movie they would have probably kept saying Shabana Azmi in the voice over a few dozen times in a 40 second trailer. The movie and the director (Mahesh Dattani) depend so much on her.
The story has an interesting premise - there is a road accident - one woman loses her son - one kid loses his mother as their bus goes over a bridge. The bus went over the bridge to avoid a drunken car driver who too dies in the accident. Nineteen years later (or something like that) that son, mother and the daughter of the drunken driver get together on their own accord to create a fusion band. I would call that cool.
The English medium robbed the movie of some nativity. The dialogues seemed stunted in parts. I, for one, couldn't make out what the support cast in the band were saying. That apart, the acting stood out as acting in most places. The only naturals were the village milkman and his buffalo. Maybe this could have been avoided if the dialogues were not in English. Anywise, Shabana Azmi gives a bravura performance - but well like I said it was clear that it was a performance. She has lip synched to the carnatic songs without making it look awkward. She is definitely the reason why this movie was green lit, I am sure.
On the music front, I guess Mani Sharma had it easy this time around. He had to take some well know carnatic compositions and give it the fusion flavor. It was indeed a big giveaway to see one of the characters (Prakash Rao) do the same effortlessly with a Mac Powerbook.
We rented the movie for Shabana Azmi but returned it giving Rajeev Menon the top marks. Cinematography is the class topper here.
My personal black mark has been that I was late in seeing this 2004 release. It has lost some of its freshness as there have been a spurt of good indie movies from India in the recent past. Most of them good!